The Golden Goose, Stevan Paul and the Cockaigne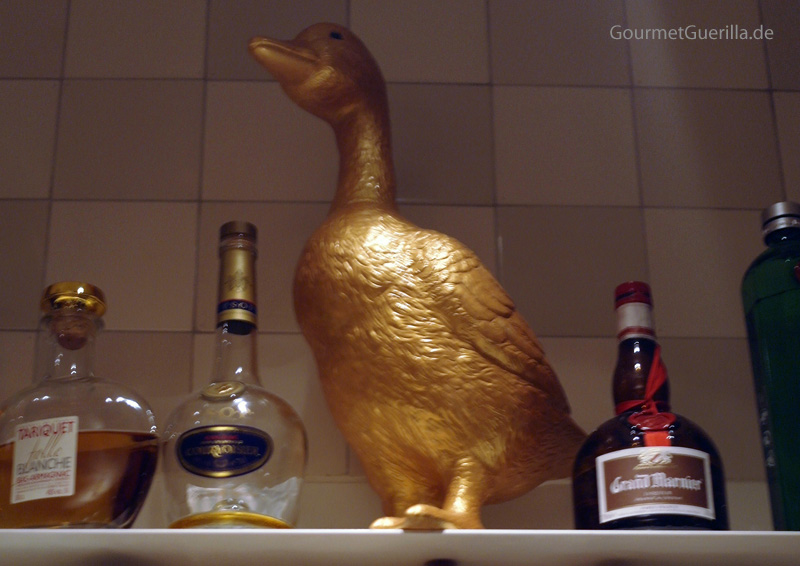 In the middle of my favorite hamburgers Dörfli Ottensen lies the restaurant "Goldene Gans" and attracts with exquisite food Food and drink. And last Tuesday, there were not only delicacies for the palate, but also something delicious on the ears: Stevan Paul has read three delightful stories from his new, "Schlaraffenland" book published in September. The fourth story was a dear old acquaintance from his first work "Monsieur, the Hummer and I." To the stories, the kitchen has developed a corresponding menu; a Tuesday can hardly be any better. Sure, we were there.
While Stevan Paul (who in real life is actually a great food blogger, great chef, and my personal favorite food stylist) unfolds his comedic talent at the front corner, delicious in foreign We listen attentively and sip on our pink crémant.
I enjoy myself and the glass is surprisingly empty again. We love it pink and therefore happily climb to the wine recommendation of the evening: 2011'er Müller Catoir, Pinot Noir Rosé, Cabinet dry, winery Haardt, Palatinate. The good drop is initially a bit stubborn on the tongue and I think spontaneously "Rosa Retsina for 8.50 euros the glass - strange".
The irritation does not last long, the atmosphere is so nice, Madame Goose is enthroned in person and gulden on a shelf above the bar and people listen attentively. Gabi smiles in our common Blankenese flower on the chair opposite.

The first story is over. After these extremely humorous insights into the tension between German allotment gardens and Greek charms on the grill, there is deserved applause and the appropriate first course:
Stewed rack of lamb with gratinated sheep's cheese, roast vegetables and toasted bread
Looking Back This is my absolute favorite. Everything is just right: The stewed lamb cuddles in tender scales on the oven vegetables with lightly melted sheep's cheese. Underneath, the crispy toasted bread is a perfect little lounger. A little pesto and extremely aromatic olives - oh, I could only feed on it! Now, by the way, the wine has its grand entrance: Not at all resinous and brittle, he caresses the appetizer almost unbelievably well and makes it taste a little bit better (man, man, man - I'm not drunk at the moment). plates are cleared and Stevan begins the second story. It's about vocations in canteens, an ostalgic GDR past and sushi outlets. The storytelling is full of tempo and I have the distinct feeling that everyone present sees the protagonist in person. In the end everyone has a great longing for Borsch-Solyanka. Thank God there is also the culinary interlation à la golden goose:
Beetroot soup with boiled beef from US beef and sour cream dill espuma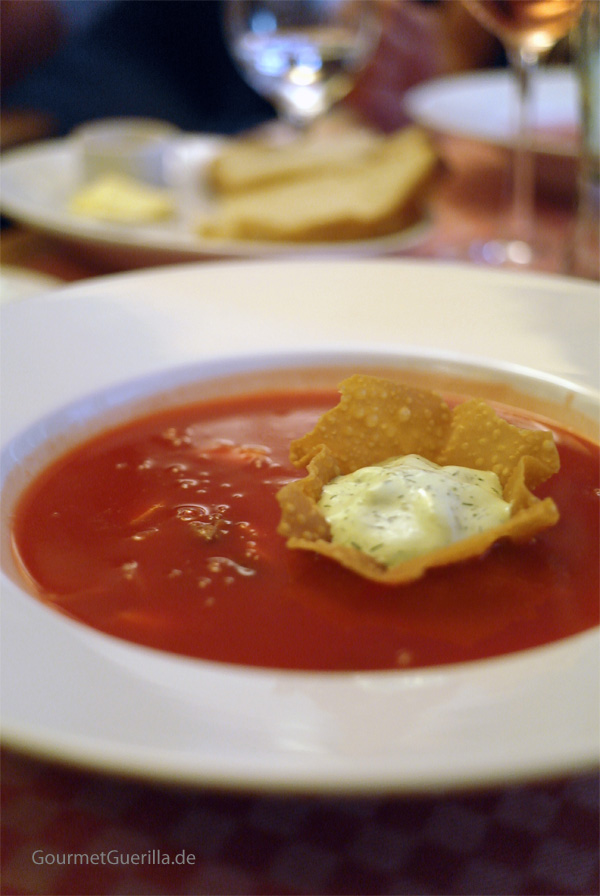 A tasty soup with a very tender taste Tafelspitz insert. The sour cream dill espuma in the crunchy wonton bowl turns out to be great.Before us vacation beaches arise, as they could be only when we were children and briefly again lifeguards produce in green tiled swimming pools. For a moment, we are all 8 years old again and play in the sea with a yellow Delial beach ball.
Time to grow up! The next course is served:
Roasted sea bass fillet with confit tomatoes, salsa verde and chickpea puree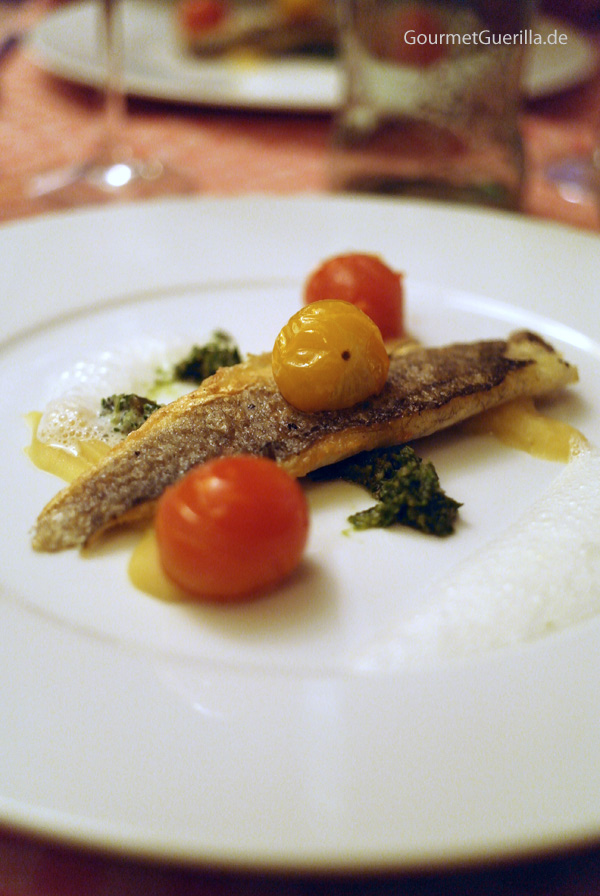 The fish comes with a crispy golden brown skin. The tomatoes and a foamy saucer accompany him neatly. The Salsa Verde is an absolute force! Where can I quickly exchange a monthly salary for a glass of it? The chickpea puree, on the other hand, shines rather through noble austerity. Anyway - the main thing is that the Salsa Verde is still here.
Stevan is also back by the way and takes us back to a distant time with his last story. It's about salamanders, eerie houses whose dilapidated shutters rain on the grass in small shavings and a wonderfully well-cared-for world that gets a decisive, ever-lasting crack in a single moment. This rift that sits in a small hidden corner in each one of us that lurks unobtrusively but unavoidably and waits and will always be there no matter how old we become. Thankfully, we can go after this one Tease story directly with something sweet and kink all the cracks:
Baked milk rice praline with bombe sorbet and green chocolate sauce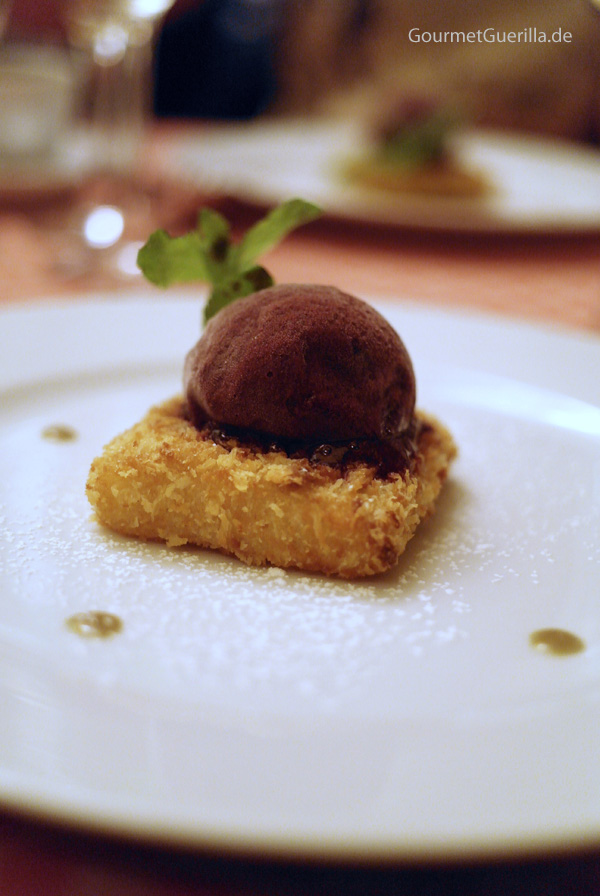 The milk rice praline is powerful, wrapped in crispy Japanese bread crumbs and deep fried. On it melts the tenderest and most delicious sorbet that I have ever eaten! What an incredible texture - the whole looks more like a burgundy velvet ball and tastes very fruity. The green chocolate sauce understands itself as Dekotupfer. Can you ever have enough chocolate sauce on your plate? I do not think so.
Stevan is quickly signing some books ...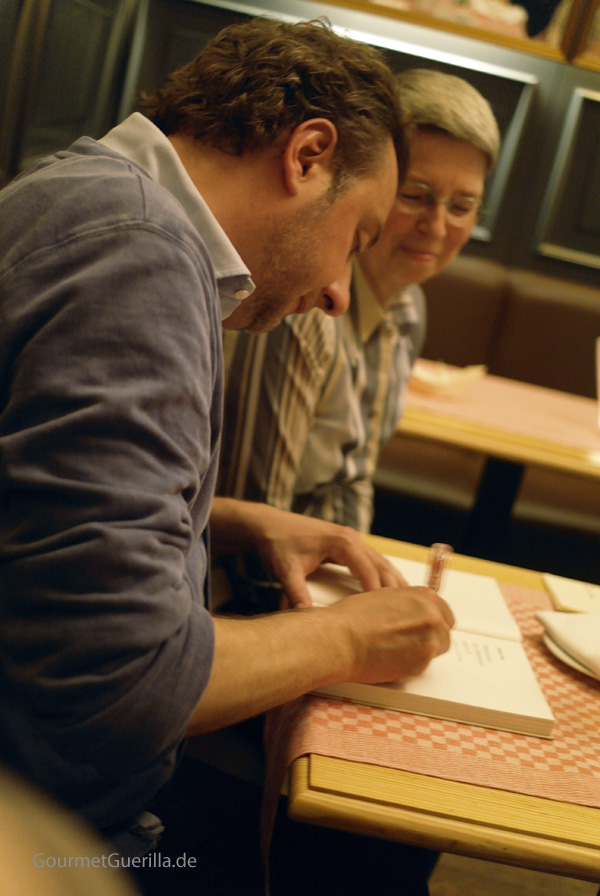 ... and then suddenly it waves from the other side of the room: Elli is also there, comes over hisses and just wants to say good evening quickly. That's what she does and we chat a bit. Group picture alert!
From left to right:
Elliane Muller (Elli kocht), me and Stevan Paul (NutriCulinary or Stevan Paul).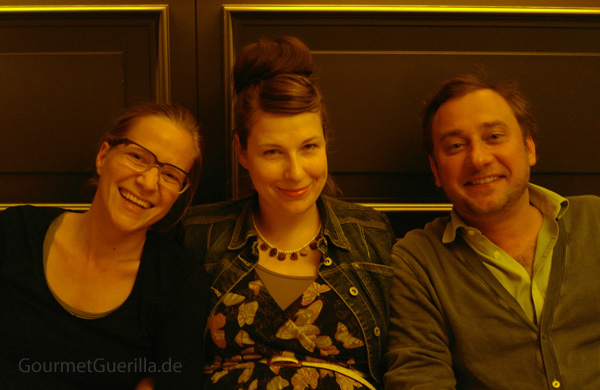 For all from Hamburg and the surrounding area :
With Elli you can also experience great kullinarische adventures at home and on the way. For example with elliKOCHT in the backyard on 23.06. Registrations via facebook. Or book one of their famous bachelor/interior cooking events!
Book tips for all foodies and reading enthusiasts:
In Trade: Monsieur, the Hummer and Me, Stevan Paul
Pre-Order: Cockaigne, Stevan Paul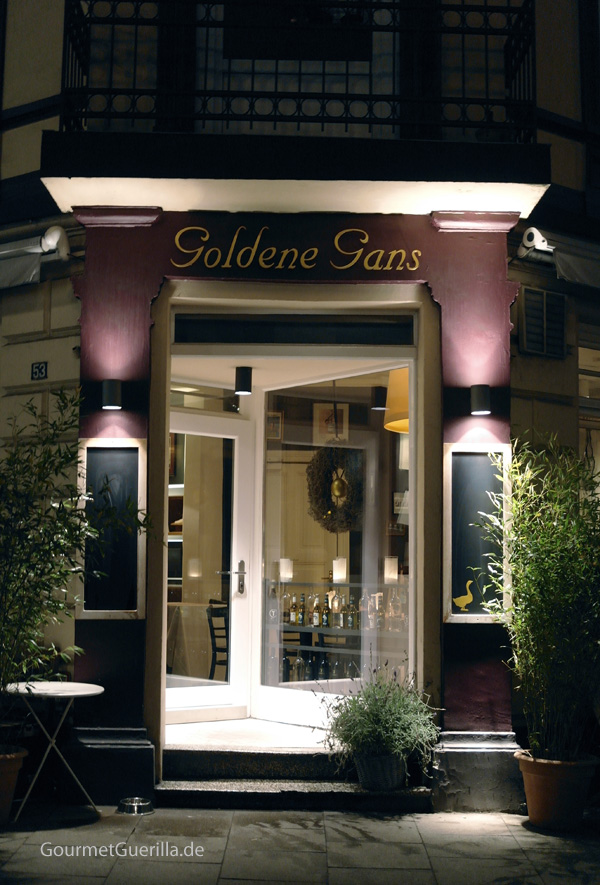 Thanks Gabi, thanks Stevan and thank you Golden Goose for the evening!
It was nice! * hicks * Golden Goose
Rothestraße 70
22765 Hamburg
Reservations at:
+40 (0) 40/39 909 878