White strawberry rhubarb sangria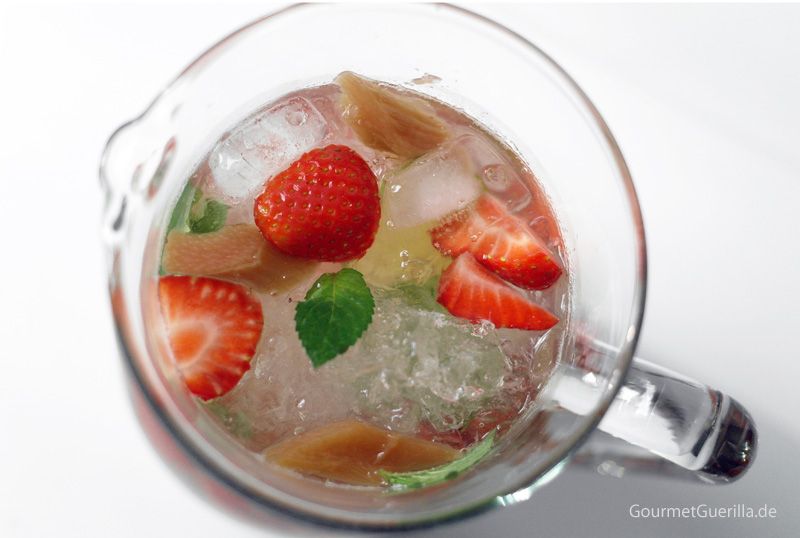 SPLASH ...! A sip of refreshment made this drink, and you feel like the Cliff man after his famous jump into the cool water. Promise!
After we all for years renounced the sangria (probably coinciding with the decision never to drink Lambrusco out of 1.5-liter bottles again), it's definitely time to do it to give a second chance. Because this is basically a great idea: First, the tasty drink to sip and then as a snack, the healthy fruit from the glass fishing ...
Actually, everything is very simple again: white wine gravel goes Sangria 2.0. And with the delicious combination of strawberries and rhubarb, limes and one or two pieces of mint. In addition, all the ice cubes that the freezer so gives in a punch bowl or a glass jug. Can you SEE the refreshment? I think I do not have much to write about: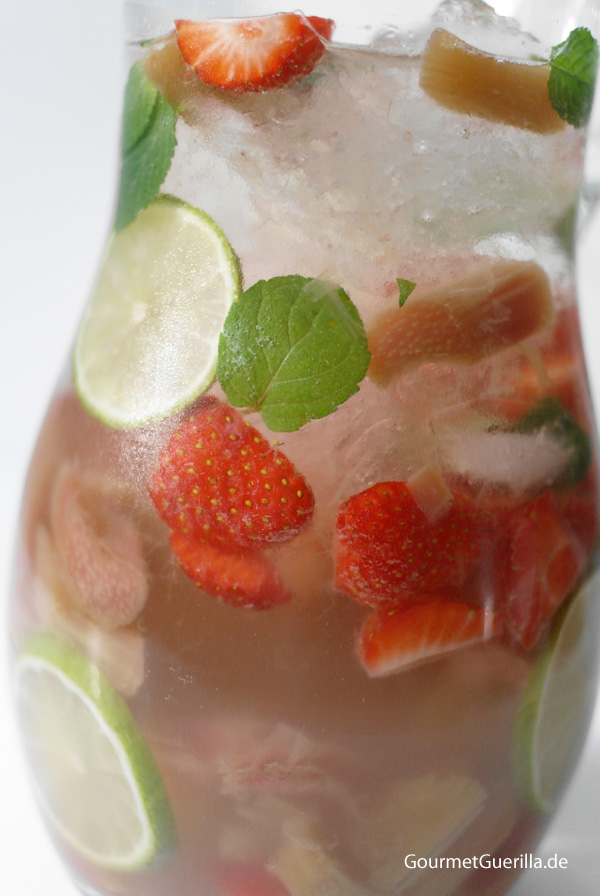 If you're into more revolutions, you're going to get a shot of high spirits. I deliberately left out the schnapps for a change. So you can just refresh yourself for a while longer (and the fur animal on your head will stay out the next day, too).

This is how it works for 2 pitchers:
Buy 30 - 40 ice cubes
freeze
or crushed ice
at the gas station.
Wash 4-5 rods of rhubarb and cut off the woody ends. Cut the bars into bite-sized pieces. Boil 200 ml of water with 4 tablespoons of sugar and 2 tablespoons of lime juice in a saucepan. Remove from the heat, add the rhubarb pieces and let stand for 20 minutes.
250 g strawberries
wash, clean and quarter or halve.
1 untreated Cut lime into thin slices. Put a few mint leaves in place
Put half of the ice in a punch bowl or glass jug and spoon half of the rhubarb with a little liquid. Add half of the strawberry pieces. J 1 1/2 bottle of Riesling and mineral water with Blubber (preferably ice-cold) pour. Add the mint leaves, stir once and top up with the rest of the ice cream.
Drink everything with relish, knowing that another delicious jug will be made lightning fast.